Delivering Agile Projects using MS Project Server/Project Online
Agile is a methodology that encourages continuous iteration of development and testing throughout the software development lifecycle.
There are a several agile principles that commonly apply to agile project management:
Project/Product Vision– A short planning session to outline the overall objectives of the project and to ensure that all work being completed in each iteration is as per the project vision.
Sprint Planning–Sprint is the fundamental element of Agile. In Sprint Plan, the team categorizes work items on which they are going to work within the Sprints.
Scrum– This is a brief 10-15 minutes meeting where the team members review the current status of the Sprint and plan for remaining items of the current Sprint.
Release Planning– After number of iterations, a release is processed. In release planning there is a short session to define the content and duration of each release.
Product Backlog– Product backlog is the repository of all work items of a project. The project owner can update the work items as per the business requirements for the project.
Agile Reports– There are various Agile reports, which shows the current status of Sprint for daily tracking of completed work items versus remaining work items for the current Sprint.
MORE RECOMMENDED ARTICLES
SCRUM VS KANBAN: WHAT'S THE DIFFERENCE?
REPORTS & DASHBOARDS FOR AGILE PROJECTS
How to create agile projects in MS Project-
Open MS Project, here you will see the option of choosing an agile template. Currently there are two types of templates readily available – Scrum and Kanban.



There are some new fields introduced to manage the agile projects like Agile, Sprint, Sprint Finish, Sprint Start, Board Status.
You can also, directly turn on the Agile interface for managing schedules from the Project Ribbon.


Here it will ask you to select the methodology.


When you choose the appropriate methodology, the Scrum project templates and Kanban project templates open up their relevant views and show a new tab on ribbon, which depends on the methodology you have selected.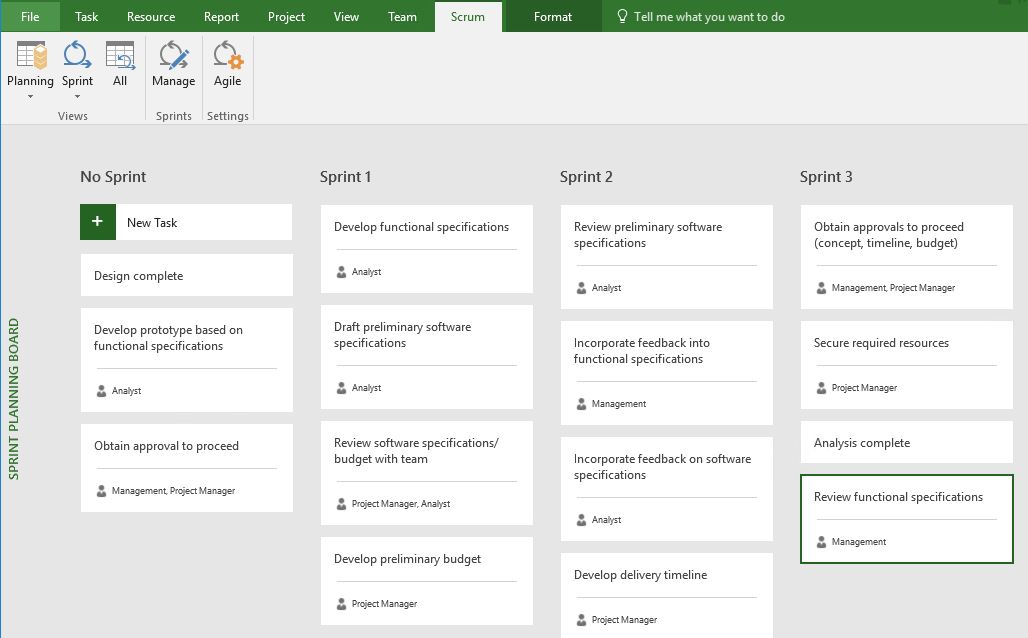 Scrum Planning Board
Kanban Backlog Board
You can drag and drop the tasks in Scrum planning board and Kanban backlog board to easily manage the tasks between Sprints.
You can combine both Waterfall and Agile projects in a single plan. This allows to plan and track relevant parts of your project using appropriate methods. To achieve this in the normal Gantt chart view, you can add the column 'Agile' which is a Yes/No field. When set to 'Yes', tagged tasks will show up when you switch over to one of the new Agile views – Scrum or Kanban.


There are various reports available for an agile project which can be seen by going to Reports tab on the ribbon.


With Project 2016, Microsoft has introduced agile capabilities for project management, and is continuously improving it. This gives project managers a broad choice of working style when managing their projects – using an agile approach.
[/kc_column_text][/kc_column][/kc_row]
Shruti has more than five years of experience in application development. She is currently working as an EPM Developer with Advaiya. Her responsibilities include project development, deployment, troubleshooting and client communication. Shruti has gained an extensive experience working on Project Server Customization and Reporting. She also possesses good knowledge in technologies including - SharePoint, SQL Server, Power BI, SSRS, among others.
Related Posts: